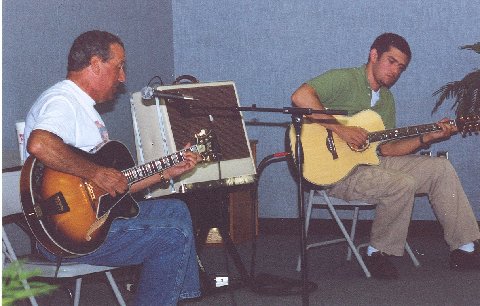 This is me and grandson Billy playing at a meeting of the Thumb and Fingerstyle Guitar Players Association. Billy is playing his new Crafter acoustic/electric. I am playing a new copy of a D'Angelico New Yorker.
THE SONGS ON THE CD ARE
THE CLAW - jerry reed
NUT SUNDAE - jerry reed
CARVIN IT OUT - nokie edwards
DOWN HOME - jerry reed
STUMPWATER - jerry reed
SWARMIN' - jerry reed
JERRY'S BREAKDOWN - jerry reed
LIMEHOUSE BLUES - furber/braham
HONKIN' - jerry reed
HELLACIOUS - jerry reed/paul yandell
I GOT A WOMAN - arr. nokie edwards
CD's are $15 each
price includes postage
Order from:
Billy Denham
9915 Blue Springs Rd.
Harrison, TN. 37341